At very early age, John showed great promise as a wind player. His folks say that he learned to whistle before he even learned to walk. They didn't realize until he was about 8 years old, that those early signs were the beginning of what was to become a prolific career playing the Saxophone. John's older brothers Frank and Joseph played Clarinet and Trumpet respectively, so when John decided that he wanted to be like his brother Joe and play the trumpet, Joe suggested that he think a little more about which instrument to play. They opened an encyclopedia to see what a Saxophone looked like and Joe convinced him that it was shaped like the letter "J" as in John. He was sold. So with his parents, John & Gina, they went to Manny's in NYC and purchased John's first Sax for $50. His Dad made him a neckstrap out of a shoelace and John played on the corner and the rest is history.

In elementary school, John excelled at all aspects of music whether it be wind or rhythmic related. His music teacher, Tom Colabella, who incidentally is a Drummer, encouraged and challenged John with both rhythmic and melodic exercises. When John entered the 6th grade, he became enamored with a local Drum and Baton Corp...the Huntington Thunderers, who shortly thereafter became the National Champion Long Island Patriots. It was here that John really began to develop his sense of playing in a horn section. Under the tutelage and Musical Direction of Clem DeRosa, the Long Island Patriots went on to win three National Drum and Baton Championships starting in 1975 and continuing through 1976 and 1977.

It was shortly after entering Junior High School that John really began to show and express his love for the Saxophone. With a program that encouraged competition and rewarded hard work, John's interest flourished. Under the direction of Miss Connie McDermott and Miss Pat O'Brian, John began to understand and accept his passion for playing music. It was at this time that John began studying under the tutelage of the father and son team of Hy and Alan Mandel. This is when he really began to listen to the saxophone greats and develop a sense of the history of the saxophone, but more importantly, this is when he realized that he wanted to play Jazz. He began to inquire into who could help him in this task and this led him to a very unique and influential man in many a musicians career named Ranny Reeve. Ranny, a local Pianist, Teacher, Writer and Philosopher, offered John a place in his "Jazz in the Living Room" teachings and concerts. This unique method of creating a place for kids and adults to get together and play in a healthy and nurturing environment, namely Ranny's living room, proved to be the catalyst for John's decision to pursue a career in music. With Ranny and the ensemble, John played many local concerts and festivals. One of the highlights of his tenure with Ranny was performing in New York City for the first time in a new outdoor concert series at the famed Citicorp Building atrium on 54th Street. A highlight of that performance was the Earl Hagen tune entitled "Harlem Nocturne".

Ranny stressed a well rounded education that would include learning not only about music. John enrolled in the music program at State University of New York at Potsdam in the Music Education program. Here John studied with Dr. James Stoltie and Anthony Maiello. After a year or so, John decided that he needed and missed a more competitive environment where he could flourish. He applied and was accepted to Berklee School of Music in the Saxophone Performance program where he received the coveted Phil Woods scholarship. It was at Berklee that John began to really become a part of the music community and develop relationships that have endured over the years since his graduation.At Berklee John studied with Jimmy Mosher, George Garzone, Billy Pierce, Matt Maraviglio, John LaPorta, Phil Wilson, Bob Freidman and Joseph Viola. John graduated Magna Cum Laude in 1985 and immediately signed up for the waiting list for world renowned teacher and tenor Saxophonist, Jerry Bergonzi. That wait would be a few years, so John took advantage of an offer of recommendation from Joe Viola to join the Tommy Dorsey Orchestra under the direction of Buddy Morrow. It was with the Dorsey band that John got his first taste of being on the road with a band. While with Dorsey, John traveled in the United States exclusively and for the most part, by tour bus. After 1 1/2 years on the road, John's name came up on Jerry Bergonzi's list, so he moved back to Boston to continue his studies. At this point John switched from playing Alto Saxophone to playing Tenor Sax and began his studies with Mr. Bergonzi. It is at this point of John's life and studies that he feels he developed a great deal of his character as a player and as a musician.

John continued to live, work and study in Boston with just about every band he could. From Artie Shaw to the Temptations to the Moody Blues. He knew that soon he would be headed for New York, his home and family and his future in the music business. Shortly after arriving in New York, John attended a monthly meeting of a local NY area band that he heard had a slamming horn section. He walked in on a 12-piece band playing the music of Tower of Power and Earth, Wind and Fire. That band, the Funk Filharmonik would be very influential in John's new environment. That night he gave the Tenor saxophone player his business card and told him he was available to fill in whenever they needed a sub. A month later, John received a call from the band and was asked to come out to a sound check at a club in Huntington, NY. John auditioned on Baritone Sax and was offered the job on the spot. The local exposure that this band created for John was instrumental in propelling his career playing live and in the studios of Long Island and NY. Along with Lee Finkelstein, Ozzie Melendez and the Funk boys, the Funk Filharmonik continues to funk up New York and has won "Best Horn Band" in NY many years in the running. Go to www.funkfilharmonik.com for more information.

Along with the "Funk" horn section, John and a close friend from Berklee School of Music, John Wheeler,
started another horn section that they called the "East 4th Horns". John S. and John W. had always said that when they both got to NY that they would start a horn section to play in the ever present and challenging New York studio scene. With John W. on Trombones and John Almark on Trumpets and arranging, they had a winning combination. The Trumpet chair seemed to evolve as the work became more frequent. It was at this point that Tony Kadleck joined the section. It was with John and Tony that the East 4th Horns really developed their sound. After landing a great account with "Beat on Beat " studios under the production of Atsushi Kosugi, the East 4th Horns began to record with artists such as George Benson,The Gypsy Kings, Jody Watley, Natalie Cole, Luther Vandross, Bill Cosby, Aaron Hall, Ultra Nate, Nuyorican Soul, Be Be Wynans, Terrence Trent D'arby, The Braxtons and Salt-n-Pepa. Some other musicians that recorded with the East 4th horns in the section are Arturo Sandoval, Michael Brecker, Grover Washington, Jr., Bill Evans, Phil Woods, Bob Mintzer, Bob Berg, Lenny Pickett, Jay Beckenstein, Gary Smulyan, Barry Danielian, Ozzie Melendez, Joe Giorgianni, Dave Mann, Eric Miyashiro, Andy Snitzer and Donny McCaslin to name a few.

One afternoon John received a phone call from Emilio Castillo of Tower of Power upon the recommendations of both David Mann and Barry Danielian, the then current sax and trumpet players with Tower. Emilio asked to speak with John Scarpulla and identified himself. John, thinking that one of his close friends was playing a prank on him was skeptical and laughed it off as another prank. Emilio again identified himself. At this point John realized that it really was Emilio and began apologizing. Emilio again identified himself and calmed John down. He asked John to send out a demo as soon as possible to the band while they were on the road. Emilio said that if the demo was cool John would hear from Tower's management. After receiving and listening to the demo that John sent, Emilio called again to say that it was the slickest demo that he had received and to expect a call from his manager. With Tower, John was really in his element. He prepared for the gig by memorizing the entire repertoire of the current touring band. When he arrived at the first sound check, Emilio asked him to play a few of the more difficult tunes in the set. After a few tunes, Emilio called an end to the sound check and welcomed John to the band. With Tower John played and recorded on "Rhythm and Business" and can be heard on the Rhino compilation entitled "What is Hip? : The Tower of Power Anthology" and Soul with a Capitol "S":The Best of Tower of Power". With TOP John toured most of the United States and North America as well as most of Europe numerous times.

To his credit, John has pursued many avenues of the music business and many styles of music. His love of Latin rhythms and Salsa has led him to play and record alongside and with many of Latin musics icons and idols. He has recorded and performed with Willie Colon, Celia Cruz, Ralph Irizzary, Ruben Blades, Marc Anthony, Ricky Martin, Sergio George, Tito Nieves, Roy Ayers and Huey Dunbar of DLG. His passion for salsa has enabled him the opportunity to travel to South and Central America as well as all over the United States and Canada.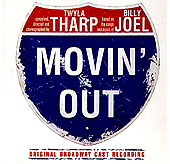 John was the featured and lead Saxophonist with the Tony Award Winning (Best Music/Best Choreography) Billy Joel/Twyla Tharp collaboration entitled "Movin' Out" at the Richard Roger's Theater on Broadway. On the show he played the lead Tenor Sax chair as well as Soprano and Baritone Saxes and Percussion. The show opened to rave reviews on October 24th, 2002 and without fail had śmultiple standing ovations at every performance with the help of stunning performances by the dance company as well as the rest of the band led by Tommy Byrnes and sung by Michael Cavanaugh and Wade Preston. Occasionally, Billy even showed up and climbed the stage and joined us in an encore to be remembered.
Currently John is performing in the tri-state area and around the world with quite a variety of bands including work with "New York's tightest funk ensemble", the Funk Filharmonik…Check out their recent CD release entitled "Everybody Get Down" which will Funk you up with it's fusion of old school Funk, Soul, Rhythm & Blues and Latin rhythms. There are outstanding performances by other Tower of Power alumni, Tom Bowes and Brent Carter.
You can also catch John performing with the "Ultimate Billy Joel Tribute", Big Shot on a weekly basis. The band, fronted and led by Mike DelGuidice, who incidentally always and without fail puts on an amazing show of his vocal skills, covers the music of Billy Joel, Elton John, Journey and so many other artists. Joining longtime members Ken Cino and Nick Dimachino of "Nine Days" are Mike Sorrentino and Carmine Giglio, who along with John are "Movin' Out" alumni. This band is a must see if you are a fan of Billy's music. "They had a hard time convincing me it wasn't me" is what Billy had to say.

As long as we're on the Billy bus, John has continued his relationship with Michael Cavanaugh, the Tony and Grammy nominated Piano Man of "Movin' Out" fame and has had the wonderful opportunity to perform with Michael in various venues both in the New York area and abroad. You can hear John on Michael's newest release produced by Rob Mathes and joined by Will Lee and Shaun Pelton entitled "In Color'.
Another amazing experience that John has had the honor of being a part of are Michael's symphony shows where they perform with the premier symphonies of North America including Indianapolis, Baltimore, Ottawa and the Boston Pops. The chemistry and friendship that has developed both during and after "Movin' Out" has endured and these shows are a must see.

This past summer John was asked to join Billy Joel and his band for the historic "Last Play at Shea" shows where we performed for over 60,000 people a night and were joined by Don Henley, John Mellencamp, John Mayer and Tony Bennett. The second show trumped it with a return from Tony Bennett along with new turns from Steven Tyler, Roger Daltry, Garth Brooks and, as if that were not enough, Sir Paul McCartney.

He recently was the Musical Director for the Long Island Music Hall of Fame awards where he conducted, arranged, contracted and performed with DMC & Chuck D, Kenny Vance & the Tokens and Felix Cavaliere. Other inductees that night were Billy Joel, Paul Simon, LL Cool J, Louis Armstrong, Count Basie, Pat Benatar, the Ramones, Walter Becker, Carole King and Blue Oyster Cult to name a few.

As is all of this wasn't enough, John and the love of his life, Yanni are the proud parents of Giancarlo and Luca born in October of 2007. "You don't even begin to realize the capacity of love that the human heart can endure until you hold your child in your arms".

Please check in on John's schedule page for all of these and other exciting events and stay tuned for more information and current updates as time goes by.
Peace and best regards to one and all!

John Backstage with His Mom & Dad